A package of reaction and separation technologies for producing 5-hydroxymethylfurfural (HMF) was recently developed by Prof. ZHANG Jian's team at Ningbo Institute of Materials Technology and Engineering (NIMTE), Chinese Academy of Sciences (CAS) in cooperation with Zhejiang Sugar Energy Technology Co., Ltd.
Renewable biomass is gradually replacing fossil fuels to provide a variety of chemicals that will raise the diversification of energy sources. Importantly, it is a great demand to convert the excessive or waste biomass into degradable chemicals with heteroatoms like oxygen and nitrogen, which would endow new or additional functions to petrochemicals.
As one of the most important bio-derived platform chemicals, HMF can be efficiently synthesized from fructose and glucose in the lab. Its derivatives can be widely used to produce fine chemicals, pharmaceuticals and degradable polymers. However the low-cost mass production of HMF has been restricted by a series of technical problems in reaction, isolation, purification and storage.
Prof. ZHANG Jian's team at NIMTE developed a green and economical technology to produce HMF from fructose with the self-owned intellectual property. Both catalyst and solvent were well recycled at a scale of 2,000 tons of HMF per annum.
To speed up the industrialization process, they also completed the fructose dehydration step at a scale of 10,000 tons of HMF annually, achieving a molecular yield above 82%.
The research team is looking for strategic investment to construct a production line with a capacity of 100,000 tons of HMF per year.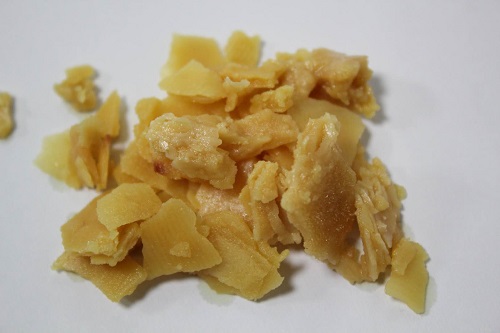 HMF product at a scale of 2,000 ton/y (purity > 99%)
Contact
XU Linqi
Ningbo Institute of Materials Technology and Engineering
E-mail: xulinqi@nimte.ac.cn