The unveiling ceremony of the Hangzhou Bay Institute, Ningbo Institute of Materials Technology and Engineering, Chinese Academy of Sciences (hereinafter referred to as HZBI) was held in Hangzhou Bay New Zone on December 26, 2018. Chen Zhongchao, Member of the Standing Committee of CPC Ningbo Municipal Committee, Qu Ronghui, Vice President of the Shanghai Branch of CAS, Yu Lei, Deputy Director of the Standing Committee of Ningbo Municipal People
'
s Congress and Secretary of
the
Party Working Committee, Hangzhou Bay New Zone, Li Qian, Director and Deputy Secretary of
the
Party Working Committee, Management Committee of Hangzhou Bay New Zone, and Huang Zhengren, Director of Ningbo Institute of Materials Technology and Engineering (NIMTE), CAS, attended the ceremony and jointly unveiled HZBI.
HZBI serves as a crucial engineering platform of NIMTE for integrating materials research with engineered industrial applications. The establishment of HZBI will be a strong impulse for NIMTE to reinforce innovation, promote technological breakthroughs and industrialization, and boost the extensive development of the manufacturing industry, and also a strong move to contribute to the strategy of vigorously developing the Shanghai-Hangzhou-Ningbo Greater Bay Area of Zhejiang Province.
HZBI is targeted to make breakthroughs in key technologies, develop R&D capabilities from an engineering perspective, output industrial technologies, realize technology transfer in local areas and lead the development of relevant industries. Based on the idea of "developing technologies for engineering application, seeking talents on a global scale, and focusing on local industries", HZBI endeavors to build itself into a model of innovative transformation of scientific achievements in an approach combining new materials research, key engineering technologies, exemplary applications, and industrialization and commercialization.
Later the leaders and guests at the ceremony also paid a visit to the exhibition room of HZBI.
Ningbo Municipality, Hangzhou Bay New Zone and NIMTE will make joint efforts to build HZBI. The institute aims to bridge scientific research and industrialization to make its technologies more mature and facilitate the integration of key technologies and relevant systems, eventually building itself into a multi-functional platform providing engineering validation tests, mature international achievements and public technology services. HZBI strives to facilitate the output of systematic achievements, attract global achievements, promote the further maturity of achievements, continuously provide achievements and expedite new industries and enterprises so as to support the transformation and upgrading of traditional industries. With over 20 hectares of land and 1.5 billion yuan for its first-phase construction, HZBI will concentrate on the internationally advanced manufacturing sector including automobile manufacturing and new materials, especially on 8 to 10 internationally competitive engineering research fields, including advanced marine functional protective materials, advanced polymeric processing technologies, bio-based chemicals and new materials, high-performance carbon fibers and resin composites, production and testing of high-performance permanent magnetic motor systems, and key materials and technologies for high-performance lithium batteries, aiming at providing scientific achievements for the innovative development of local industries.
NIMTE's leaders, department directors and numbers of researchers attended the unveiling ceremony.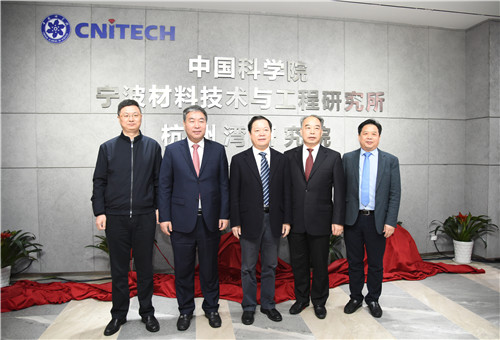 Chen Zhongchao, Qu Ronghui, Yu Lei, Li Qian and Huang Zhengren jointly unveil HZBI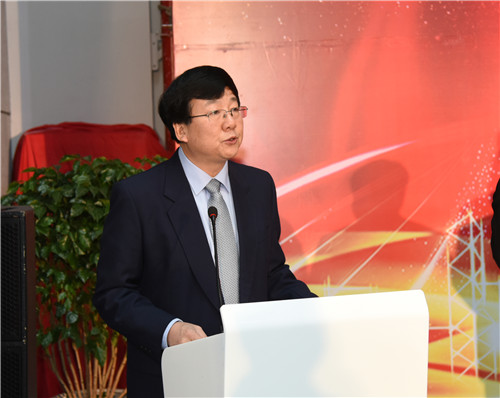 Yang Guilin presides over the ceremony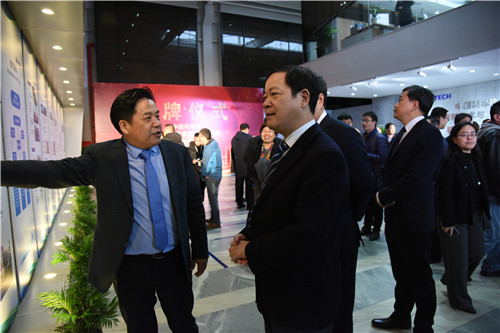 Huang Zhengren introduces the development plan of HZBI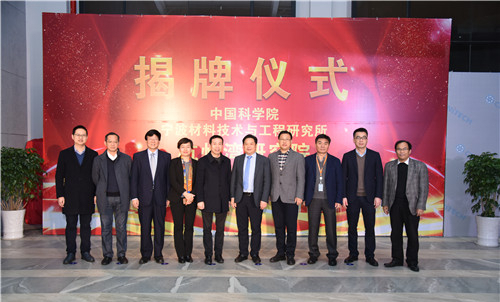 Group photo of NIMTE's leaders and some guests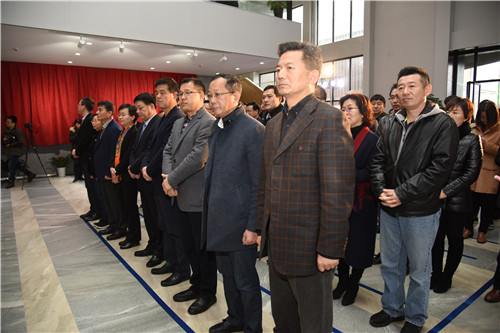 Snapshot of the ceremony
(Courtesy of Wang Xuezhen and Gao Xiaojing)